Training Sessions
Síntese em tempo real com a AudioLazy
Training details
Summary:
A AudioLazy é um pacote escrito em puro Python que permite DSP (Digital Signal Processing) expressivo e em tempo real.
Além dos fundamentos teóricos e uma explicação do funcionamento básico do pacote, serão vistos tanto na teoria como na prática diversos modelos de síntese:
- AM
- FM
- Aditiva
- Subtrativa

Outros elementos de processamento do áudio serão vistos, tais como a utilização de filtros LTI e diferentes maneiras de distorcer o som sintetizado.
Um dos desafios será a elaboração de um software que permita interatividade durante a síntese.
Aqueles que forem participar com seu próprio computador, recomenda-se o uso de fones de ouvido.
O pacote PyAudio é um requisito para a utilização dos componentes de I/O da AudioLazy. É recomendado que os pacotes já estejam instalados previamente.
Speaker details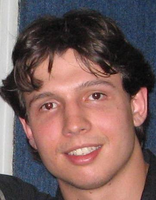 Danilo de Jesus da Silva Bellini
He's an Engineer (EE, at Poli-USP), a Bachelor of Arts (Music with emphasis in composition, at ECA-USP) and a Master of Science (CS, at IME-USP) who developed the expresiveness-oriented AudioLazy realtime DSP (Digital Signal Processing) for Python and the dose.py TDD (Test-Driven Development) graphical semaphore.