Plone Addons
Fuzzy Search on Plone and Search for East Asian Language.
Talk details
Summary:
I will talk about my add on product which named c2.search.fuzzy. https://pypi.python.org/pypi/c2.search.fuzzy .
It gives fuzzy search on Plone, it looks like Google's "Did you mean?" system on my Plone site.
Dose NOT use Goole and/or Solr, Only the Plone system for suggestions sentences.
System

structure

Levenshtein Distance

Automata

system

Support Languages

More Support Languages

Use RDBMS (MySQL), (no need RDBMS)

Searching East Asian languages
Presentation:
Speaker details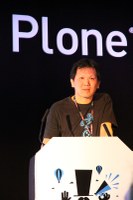 Manabu TERADA
I have a small company in Tokyo, Japan. It called CMScom, we are using almost Plone for building sites. I'm an Advisory Board Member for Plone Foundation and I'm chair of PyCon APAC 2013 in Japan.